Women enjoy luxury items and owning a luxury watch is definitely one of them. If there is a concern in your mind that your next gift may not be that appreciated, then choose one of these top 5 ladies luxury watches below.
Top 5 Ladies Luxury Watches
Any one of these top 5 ladies luxury watches will amaze the most demanding lady in your life. Which style will you choose?
1) ROLEX Lady-Datejust 31 Sports Watch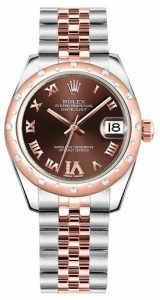 If you ever thought that a watch is just a watch, you'll change your mind when you try this Rolex watch. Sleek, distinguished and sporty, the Lady-Datejust 31mm watch is an eye turner. You'll feel that wearing this exquisite watch is as perfect for cruising on your yacht as it is on land relaxing in an elegant hotel club lounge.
Waterproof, precise and reliable, this watch distinguishes itself by its 18K Everose Gold Domed bezel set with 24 diamonds. And its attractive chocolate dial with roman numeral diamond VI sure captures the eye.
This Datejust watch comes with a self-winding automatic movement inside a solid 18K Everose Gold with steel case & jubilee bracelet.
The Rolex Lady-Datejust is a beautiful watch at a killer price but, in my opinion, one of the nicest Rolex to own. The retail price starts around $14,800 but definitely look for some good specials for this watch.
For more information why it is part of my top 5 luxury watches for women, see the Rolex history and what this Swiss company is all about. Here you'll find a description of all their watch movements.
2) Women's Rose Gold Watch

CARTIER
There are some very intriguing designs of women's rose gold watches. But, in the luxury watches, designers like CARTIER have kept the traditional look. One watch that comes to mind is the Cartier Tank Anglaise which is classical and feminine.
Simple elegance, nothing else matters.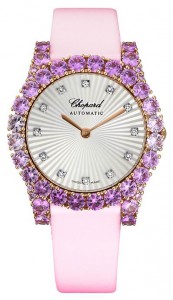 3) Women's Rose Gold Diamond Watch
CHOPARD
Well, you may think this is a little too pink but there is some rose gold here…
This is another Swiss-made luxury watchmaker by the name of CHOPARD. One of the leading names in high-end watches, Chopard is known for its creativity, state-of-the-art technology, and the excellence of its craftsmen. One of their striking watches is the CHOPARD Diamond. Solid 18k rose gold case and hands, this beautiful watch also has 40 brilliant rose sapphires weighing 7.32 ct.
If you are looking to stand out and be a bit different, this is the watch for you! This watch is one of a kind.
4) Best Seller – Breitling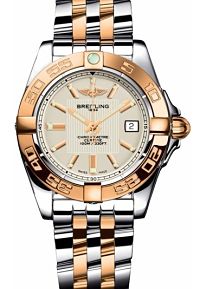 While looking for a watch that is a little more contemporary yet still different, this watch might do it.
This new BREITLING WINDRIDER GALACTIC 32 women's watch has all the amenities of a luxury watch but with much less maintenance. The battery operated Quartz Chronometer Movement will always keep time even if it is left on a dresser for a few days.
This watch is made of polished solid 18K Rose Gold with steel case and pilot dual color bracelet. It also has uni-directional rotating bezel along with luminescent hands and markers.
So don't let this watch stop you from your daily swim… it is water-resistant up to 100 meters.
5) MontBlanc, Making its Place in the Luxury Market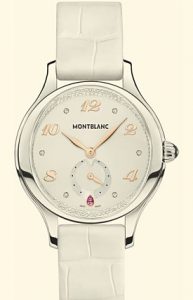 Brought to the market in 1997, this watch brand was simply considered a "fashion" watch at first.
It was only a decade later the company introduced their spectacular chronograph movement and soon became know as skilled manufacturers. Today MontBlanc surpass many other established brands with their designs.
Although a little cheaper in price than a Rolex, the diamonds, and sapphire on a white dial makes this MontBlanc Princess Grace de Monaco watch look outstanding. The polished steel case brings out the shine even more.
No wonder the name says it all… truly fit for a princess!
Well, now you have it… my take on the top 5 ladies luxury watches.  There are lots of designs, materials, and styles of watches on the market today. These are 5 very different styles among many others but surely one stood out for you. Which style do you like the most? For me, it might be the MontBlanc princess…